Twin slot uprights
Following a long and very tiring year, we have taken a few weeks off to spend some time with the family and recharge our batteries, so our current lead times for orders has been extended. To thank you for your continued support, we have set up a special summer discount code giving you discounts on your order total; please see the banner at the top of this page for details of the discount code.
Our twin slot uprights are available in three lengths: 100cm, 150cm and 200cm.
The illustration below shows you with width of the upright and the gaps between the screw holes used to install the upright. The depth of the upright (from the front side to the wall) is just under 15mm.
If you're not sure about which brackets or uprights to order, please feel free to contact us; we're really happy to help! Or you can find this information on our Frequently Asked Questions page here: Practical Shelf FAQs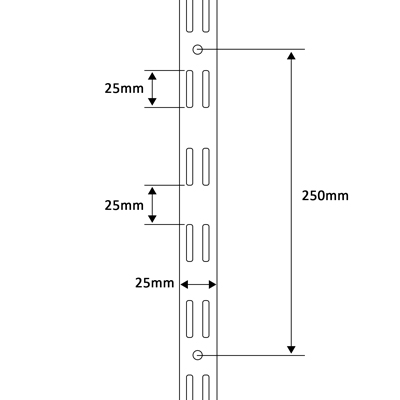 How many brackets and uprights will you need?
Once you've decided on the colour and size of your brackets and uprights you'll just need to decide how many you're going to need. 
As a guideline, we recommend at least 2 uprights for the first 100cm of shelf length and then at least one further upright for every additional 50cm or so of shelf length. Your may want to have more uprights than this if your shelves are going to be holding a lot of weight. There is more information about this on our FAQs page here: Practical Shelf FAQs or don't hesitate to contact us; we're really happy to help!